Here you will be able to source everything you need to track your employee's time and attendance records at prices guaranteed to be the lowest in the UK. We stock a large selection of clock cards and time cards used with most popular brands of clocking on machines and clocking in systems. If what you are looking for is not in the website, please feel free to fax or email a copy of your clock card or time card. We promise, not only to find it at a price to be the lowest in the UK, but also to stock it especially for you for when you need them again.
Thank you for shopping at ClockCards.co.uk.
Ref: Computime S-210 Clocking On Machine
£93.95
£139.95
Online Offer:
Electronic Clocking on System
The model S-210 electronic clocking on machine is designed for businesses that need a fast and reliable way to track employee attendance. The S-210 is packed full of automated features. Employees simply drop their clock card in the top, and the clock machine automatically feeds, aligns, print, and ejects the time card in just seconds
Terminal Features:
Operate by weekly and monthly clock cards
Suitable for commercial and industrial use
Large digital display for easy viewing and setting
Highlights lateness in

RED

Output to bells and sirens
Up to 6 clocking per day per employee
Fully automatic in and out clocking
Automatic hour adjustment for summer and winter time change
Built in battery backup for memory retention
Auto reset of time and date for power failure

12 Months Warranty Parts and Labour
Ref: Computime S-210 Starter Pack
£113.95
£166.90
Online Offer:
All you need for a complete clocking system:
S-210 Electronic Clocking on Machine
25 Slots Expandable Plastic Card Rack Ref CR700P

Free Pack of Weekly or Monthly Clock Cards Ref: CC100 and MC99

12 Months Warranty Parts and Labour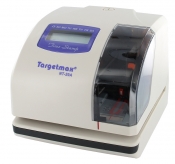 £175.00
£225.00
Online Offer:
The NT-20A from Targetmax is an Electronic Time Stamp and Numbering Machine.
The NT-20A is the ideal choice for every business application that requires time, date and number stamp.
Main Features
Keeps time during power failure
Perpetual calendar until year 209
Automatic adjusts for Daylight Saving Time
Left or right hand margin printing
Printing selections include Manual, Automatic, Semi-Automatic and combination
Large window for accurate document alignment
1 to 8 digits numbering with up to 9 repetitions
Selectable printing order up to 30 sets to choose from
Selectable print formats:



2 or 4 digits year imprint
AM/PM or 24 hours format
Regular minute, 1/10, 1/20(5/100), 1/60 or 1/100 of an hour
13 preset comments such as PAID, FILED, SENT, RCVD or CMFD


Customizable printing up to three separate lines
4 digit numeric password for program protection
Designed for wall or table mounting
Optional external bell output relay

12 Months Warranty Parts and Labour